Gli amici di Eddie Coyle e' un film del 1973 con la regia Di Peter Yates.
Trama
Eddie Coyle, un uomo oltre la cinquantina, vive fungendo da intermediario tra spacciatori di armi e la banda di Jimmy Rodriguez che si serve delle stesse per rapinare banche. Colto sul fatto mentre trasporta 200 casse di superalcoolici di contrabbando per conto dell'amico Dillon, Eddie sta per subire una dura condanna, anche perché non ha voluto rivelare il nome del committente e traditore. Il poliziotto Foley, che è già riuscito a piegare al tradimento Dillon, approfitta della tragica situazione di Eddie per costringerlo a delle "soffiate" prima sul traffico delle armi e poi sull'effettuazione delle rapine. Quando anche il Rodriguez ed i suoi vengono casualmente colti sul fatto e imprigionati da Foley, i tenebrosi superiori di tutta l'organizzazione sospettano di Coyle e incaricano Dillon di eliminarlo. Questi, indotto l'amico in un agguato, lo uccide; poi continuando nel suo losco giuoco, riprende i contatti con Foley.
Commento
Ottima trasposizione cinematografica del bel libro di George V. Higgins, è dominata dalla faccia tragica e insieme ironica di Mitchum nel ruolo dello sfortunato Eddie e lo accompagna nel suo tentativo di evitare di finire in prigione per una vecchia questione e di tutelare moglie e figli dalla prospettiva di vivere col sussidio di Stato. Ottimamente recitato, anche dai comprimari, ambientato in una Boston sporca, povera e grigia, lascia l'amaro in bocca e rende davvero difficile decidere per chi fare il tifo, tra la polizia e i malviventi. U noir crepuscolare e affilato, scabro e malinconico, dominato dal Fato come i grandi classici in bianco e nero. Ottimi Mitchum sdrucito e Boyle viscido, bene anche Jordan. Efficace lo score di Dave Grusin. Come sa chi ha letto il libro, uno dei protagonisti (maschio) si chiama… Jackie Brown
Locations
the home of Eddie Coyle: Fayette Street, Quincy, Massachusetts
Kentucky Tavern  Massachusetts Avenue and Newbury Street
Boston Bowl – 820 William T. Morrissey Boulevard, Dorchester, Boston, Massachusetts, USA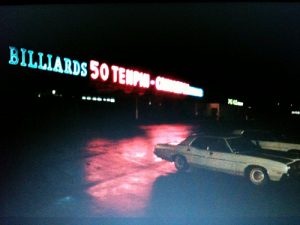 Curiosita'
La partita giocata nel film e' un match della NHL tra gli  Chicago Blackhawks e i Boston Bruins. Bobby Orr and Eddie Johnston contro  Keith Magnuson, Tony Esposito, Bill White, Pat Stapleton and Cliff Korall per i Blackhawks.
L'attore Steven Keats fu preso nel cast da Peter Yates perche' Yates pensava che Keats assomigliasse a Mick Jagger.
Robert Mitchum parlava ogni giorno con 4 poliziotti locali per allenare il suo accento di Boston.
Le sequenze della partita di hockey furono girate nell' arco di due giorni.
Alex Rocco, che interpreta Scalise,  era un membro della nota The Winter Hill Gang che operava fuori di Boston, Massachusetts. Oltretutto, Rocco presento' Robert Mitchum a Howie Winter, che era il secondo boss della  The Winter Hill Gang, per aiutarle Mitchum a impersonare Eddie Coyle.
Story

2

Actors

2

Music

2

Director

2

Average
Loading, please wait
F
OTO E POSTERS
GENERE: Drammatico
ANNO: 1973
REGIA: Peter Yates
ATTORI: Steven Keats, Peter Boyle, Richard Jordan, Kargareth Ladd, Kevin O'Morrison, Alex Rocco, Joe Santos, Mitch Ryan, Peter MacLean, Robert Mitchum
SCENEGGIATURA: Paul Monash
FOTOGRAFIA: Victor J. Kemper
MONTAGGIO: Patricia Lawes Jaffe
MUSICHE: Dave Grusin
PRODUZIONE: PAUL MONASH
DISTRIBUZIONE: CIC
PAESE: USA
DURATA: 105 Min
FORMATO: TECHNICOLOR