Spielberg allarga cast nuovo film
Il film sul Pentagono di Steven Spielberg vede aggiungersi al cast Sarah Paulson, Matthew Rhys, Alison Brie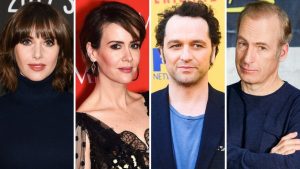 Il film Fox e Amblin Entertainment, con Tom Hanks e Meryl Streep, ha aggiunto al cast Alison Brie, Carrie Coon, David Cross, Bruce Greenwood, Tracy Letts, Bob Odenkirk, Sarah Paulson, Jesse Plemons, Matthew Rhys, Michael Stuhlbarg, Bradley Whitford e Zach Woods.
Il film, che è stato ribattezzato The Papers (originariamente The Post), è ispirato dal ruolo del Washington Post nel pubblicare lo stupito studio sul ruolo dell'America nella guerra del Vietnam: una massiccia copertura di segreti governativi che si estendevano a quattro decenni e quattro presidenti degli Stati Uniti. All'epoca, Katherine Graham (Streep) stava ancora trovando il suo posto come primo editore di un giornale femminile del paese e Ben Bradlee (Hanks), redattore del giornale, stava cercando di migliorare lo status della stampa locale in difficoltà. Insieme, i due formavano una squadra improbabile, perché erano costretti a riunirsi e prendere la decisione audace di sostenere il New York Times e combattere il tentativo senza precedenti dell'amministrazione Nixon di limitare il primo emendamento.
Spielberg lavora su una sceneggiatura di Liz Hannah e Josh Singer, e lo produce assieme ad Amy Pascal e Kristie Macosko Krieger. Le riprese principali soni iniziate a New York martedì scorso.
Fox rilascerà il film in anteprima il22 dicembre in alcuni cinema, prima di un ampio rilascio il 12 gennaio 2018.